It's not vectored so speeds will go down as traffic goes up. 35b VDSL, probably from Huawei, has been deployed in towns across Italy by Fastweb/Swisscom. Italy has no cable. If the telcos work together, the customer has to take what they offer. The government wants to prevent high prices by using the state-controlled electric company to build fiber. The politics are intense and mostly playing out behind the scenes.
Testing in Adtran labs confirms that speeds over 200 megabits are practical with vectored 35b. Speeds are similar to G.fast speeds from around 300 meters to around 450 meters, but much slower for shorter distances. G.fast is now routinely reaching 500-800 megabits, with a gig expected from the increased power and other changes almost ready.
35b uses frequencies from 2 MHz to 35 MHz. a total of 33 MHz. It's essentially an upgraded version of 17b, getting faster speeds from the increased bandwidth used. Telcos are making are choosing 35b because it's cheap, about $100/home passed if cabinets are in place.
It's compatible with existing 17b VDSL while G.fast isn't. That means you don't need to replace existing modems. The equipment price should ultimately be similar, although at the beginning the vendors expect a premium. Adtran believes they can vector over 100 lines of 35b, while G.fast is struggling to get past 24 lines. (Broadcom has promised 96 lines by the end of the year.) Larger vectoring groups mean fewer boxes, another cost savings.
While telcos usually trumpet improvements, Fastweb has kept this under wraps. Except for one press release from modem maker Technicolor, nothing has been published in English. I missed it. A reader pointed me to an item in Italian and I found speed tests from several subscribers. I would guess that Fastweb decided to keep this quiet because both they and Telecom Italia having been promising Italians fiber home for years. The only mention in Swisscom's latest presentation is at the bottom of one slide. Publicity from Swisscom and Fastweb features gigabit fiber home, but they are building very little of it.
Two years ago, CTO Bruno Jacobfuerborn thought DT would do a great deal of G.fast from distribution points; so did Trevor Linney at BT. When Deutsche Telecom and British Telecom costed out running fiber to the millions of distribution points, they changed plans. Deutsche Telekom decided they couldn't afford more than 35b, mostly from existing cabinets. They hope to turn it on late this year or early next.
FASTWEB LAUNCHES SERVICE WITH NEW ULTRA-BROADBAND TECHNOLOGY FROM TECHNICOLOR
July 07, 2016
The service delivers 200 Mb/s download speeds and improved wireless access.
Technicolor is continually pushing the boundaries of ultra-broadband development, and today we are pleased to be a key technology partner in Fastweb's announcement of their new FASTGATE gateway service. Fastweb is an alternative fixed-line provider in Italy, and their new gateway service uses Technicolor's ultra-broadband VDSL 35B data access and enhanced WiFi connectivity technologies. This combination will allow Fastweb to deliver faster speeds, coupled with improved wireless capability. That means faster data downloads, high quality video streaming and digital media that can be enjoyed both connected and wirelessly.
This ultra-broadband deployment is the first eVDSL launch in Europe and the first eVDSL CPE launch for Technicolor. This service joins the other ultra-broadband products that have been introduced by Technicolor and further reinforces our commitment to providing our Service Provider partners with the fastest data delivery solutions, regardless of network or platform.
Technicolor is a creative technology company and we recognize that the future of entertainment requires development of solutions that support cutting edge services for today, yet enable future services too. As Technicolor looks across our business portfolio, we see the continued bandwidth demands of new immersive video services like HDR, Virtual Reality and Augmented Reality. Eventually, audiences will demand these experiences in their homes and we want to provide the technologies that will enable these experiences.
Fastweb announces new modem for 200Mbps fiber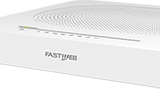 Fastweb has announced it will offer a new modem to new customers who have requested the UltraFibra option, the pattern Technicolor TG789vac Xtream 35b
of
http://pro.hwupgrade.it/news/tlc-mobile/fastweb-annuncia-il-nuovo-modem-per-la-fibra-200mbps_63549.html]" style="color: rgb(0, 102, 255); cursor: pointer;">Nino Grasso published on July 9, 2016 , at 9:01 in the channel
TLC MOBILE AND
Fastweb
Fastweb and Technicolor have announced a new FASTGATE modem that integrates VDSL 35B ultra-wideband technology with Wi-Fi connectivity. The modem-router is characterized by "very high performance" and is designed to meet the new demands of the fastest connections on the square. Ideal for HD streaming, the modem Technicolor is available now for Fastweb customers who have chosen to activate the option to UltraFibra with connections to 200Mbps download speed .

The new operator plan "alternative" Italian has allowed further expansion for the network based on the technology with which eVdsl double the standard speed of the ultra-broadband raising it from 100 to 200Mbps. Given the renewed speed of the Internet connection, the company has upgraded the router functionality and performance of Wi-Fi compatible with 802.11n ac standard for speeds of up to 450Mbps in a 3x3 MIMO configuration for the antennas.
Fastweb is expected to reach 13 million users in 500 cities (50% of the Italian population) by 2020 with its own fiber technology, offering speeds of up to 200Mbps. To date, the operator covers with its more powerful technology 24 cities, which will become 30 by the end of 2016. A renewed technology to connect naturally requires the use of appropriate tools, and that's why Fastweb starts offering the modem Technicolor TG789vac Xtream 35b to its customers.
On the connectivity the device implements a WAN port for connecting an external modem, three Ethernet ports, two phone ports for connecting a traditional, two USB phone. Thanks to sensing technology Technicolor AutoWAN , also, the system can choose the best network path for accelerating the delivery of ultra-wideband services, such as the streaming of video Ultra HD 4K or other typical applications of the start home.
"To offer its new eVdsl service up to 200 Mbps, Fastweb is using the Technicolor technology that, in addition to providing VoIP functions, allowing VDSL2 connectivity. Through this partnership, Fastweb is the first operator in Europe to launch based connectivity technology eVdsl, and is also the first time that Technicolor realizes a VDSL CPE, "he said Mercedes Pastor, President of EMEA Connected Home Technicolor. "These two milestones accelerate the adoption of ultra-wideband technology in Europe and open up services and content for next-generation immersive".
Fastweb has instead said, in the voice of Roberto Chieppa, Head of Marketing of the company: "The Italian families are ready to use ultra-wideband connectivity services that allow you to watch high-quality videos, browse and download data quickly, using any type digital media, including wi-fi. Thanks to the advanced technologies Technicolor and Fastweb advanced telecommunications services we are able to meet their expectations. the new multi-stream Wi-Fi also enables WOW FI, our service Wi-Fi based on shared community of Fastweb customers, increasing their performance. "
Fastweb announced results for the first half 2016: continued growth in revenues, margins and customer
In the first six months of the broadband operator's revenues amounted to 881 million euro (+ 2% compared to the first half of 2015) and the organic EBITDA grew 8% to 280 million euro. The number of customers increased by 5% over the previous year.
In the first six months of 2016 Fastweb has further consolidated its position in the broadband market in Italy with innovative offers and the quality, speed and stability of its services. Revenue growth and continuous improvement of key profitability indicators confirm the success of the business plan of Fastweb which provides for the creation of more extensive broadband network in Italy ultra alternative. The strategy of strong infrastructure investment has been rewarded by the market and customers that increasing numbers choose Fastweb as a supplier of value-added services.
30 June 2016 the total of Fastweb revenues amounted to 881 million euro, an increase of 2% compared to the 862 million euro recorded a year earlier, thanks to continuous product innovation and interest collected from the band offers ultra (up to 200 megabits per second) proposed by the Company throughout the national territory.
L 'EBITDA (Earnings before interest depreciation and amortization) reached 335 million Euros, compared to 260 million euro in the first half of 2015. Excluding items straordinare, EBITDA amounted to 280 million Euros, with growth 8%. The organic EBITDA margin reached 32% from 30% in the first half of 2015, continuing the steady improvement in profitability trajectory. Free cash flow has risen to 67 million euro.
The commitment in the construction of ultra-wideband network has led investments in the six months to 286 million euro, 7 million more than in first half 2015 (+ 2.5%) and 32% of company turnover, a single percentage in the European telecommunications landscape and highlights the role of Fastweb in the process of innovation and digitalization of Italy.
At 30 June 2016, the basic Fastweb customers reached 2.257 million units, an increase of 5% (+100,000 new units) compared with a year earlier.
The ultra-wideband network of Fastweb to June 30 reached 7 million units in 90 cities with Fiber To The cabinet technology and Fiber To The Home. Of these, 24 have been connected during the second quarter with eVdsl technology can deliver speeds up to 200 megabits per second, in implementation of the project to upgrade the network plan presented in the month of April 2016 which provides for both the extension of the network to ultra-wideband Fastweb 50% of the Italian population by 2020 (13 million households and businesses) locations, is precisely the upgrade with speeds up to 200 megabits per second.
Fastweb is confirmed co-leader in ultra broadband connections market with a market share of 37% and 710,000 active customers at June 30, 2016 and with a penetration of these services amounted to more than 30% on their customer base.
Among the important events during the second quarter, it reports that in the month of May has been renewed and extended its partnership with Sky a further 5 years to market the joint package broadband and pay TV. The new agreement, as well as renew the duration of the cartel until 2021, it has widened the scope by extending the number of services from Sky and Fastweb proposed jointly.
During the month of June Fastweb has expanded to 200 municipalities in Central and Southern ItalyWOW Fi service, the innovative wi-fi solution spread reserved for Fastweb customers which makes access to high bandwidth Fastweb can while on the move. The service, already used by about 2 million people, will be available in 800 municipalities within the year.
Finally, in the second quarter Fastweb was awarded, temporary business grouping with Leonardo-Finmeccanica and IBM, the Consip tender for the supply of services of Digital Security and Safety to the Public Administration. The total amount of the supply is equal to 600 million euro in five years.
Events after the closing of the semester
The July 26, 2016 Fastweb and Tim have announced a strategic partnership aimed at building a FTTH (Fiber to the Home) national network that guarantees speed of at least 1 gigabit per second. The infrastructure construction and the laying of the fiber will be realized through a joint venture co-owned by the two companies, respectively 20% and 80% with the aim of fiber optic connect 3 million housing units in the main 29 Italian cities by 2020, for a total investment of 1.2 billion Euros.
In the early days of August Swisscom Italy Srl signed agreements relating to the sale of its stake of 10.6% interest in Metroweb SpA Metroweb Italy, majority shareholder. The transaction amounts to 80 million euro, in line with the current valuation recognized by the offer presented by Enel to acquire 100% of Metroweb Italy SpA The transaction is settled, the closing of which remains subject to ' approval of the Guarantor Authority for Competition and market, will take place this fall.